Bormio: Veterans still on top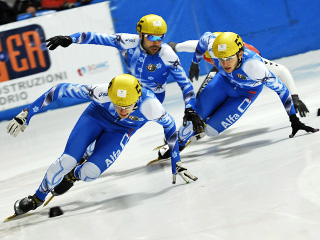 Photo by: Cristian Maganetti (see www.emmed.it)
11 November 2007 - Bormio woke under a blanket of snow on the last of the 4 day Valtellina Trophy Marathon.
Super finals for all categories followed by the relay finals closed this fantastic event which brought together over 200 skaters for more than 300 races!
The winners of the senior categories are two veterans of the international circuits: Evgenia Radanova, who raced for her club (Ice Peak) and Nicola Rodigari who raced for Italy. The Junior A category was no less: Arianna Fontana (ITA) won the ladies category and Viktor Knoch (HUN) won the men's.
The 'surprise' COM.ER Trophy was awarded to the club with the largest number of skaters spread on all categories: it went to the German Club from Dresden!
Great pictures of all the four days and of the podiums are on www.bormioghiaccio.valtline.it, while full results are here.