Reims: Mastercup succesfull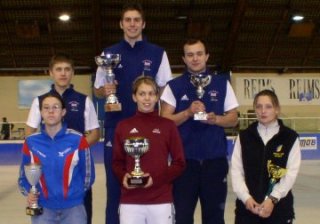 29 October 2006 - The Mastercup Star Class competition in Reims was a big success. Over 200 skaters from 8 countries were competing on the Patinoire Bocquaine Icerink. Rózsa Darázs (HUN) was the clear winner in the Ladies Star Class category on the last competition day. Two victories on the 1000 meter and the 3000 meter Super Final were enough to secure her overall first place. In the final classification Debora Secchi (Bormio-ITA) and Myrtille Gollin (CGALE-FRA) were second and third. Jon Eley (Mohawks-GBR) was the best skater in the Men's Star Class category, after winning the 500 and 1000 meter. Oliver Horsepool (NIRC-GBR) and Paul Stanley (Mohawks-GBR) completed the British success with the second and third place overall.

Click here for all the results or go to the Live page to see the complete program of the competition.

Go to the website of the club RPV for more pictures.