Oberstdorf Shorttrack Summercamp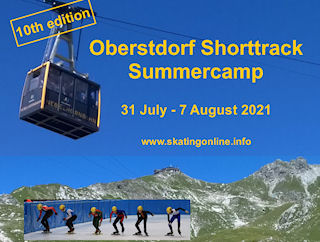 21 April 2021 - The entry for the 10th edition of the Oberstorf Shorttrack Summercamp, which will be held from 31 July-7 August 2021, is on full speed now. Participation is open to Juniors, Seniors and Masters.

The summercamp will have around 100 hours of ice time for training. Besides this a Welcome Barbeque, Mountain Run, Biathlon, a Sportive Recreational Event, a two days Shorttrack competition and a Closing dinner will be held (if Corona measures allowe it).

Entry can be done by the secretary of the club in the same way as skaters normally are entered for competitions on this website. Depending on the situation a special Corona protocol (approved by the local government) will be used in order to guarantee maximum safety.

All updated information about the Oberstdorf Shorttrack Summercamp kan be found on the special website: www.SkatingOnline.info.