Super Prestige for Schulting - Gun Woo Kim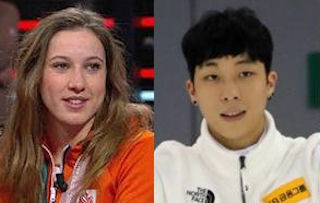 photo: Suzanne Schulting and Gun Woo Kim
13 February 2019 - After the Worldcup in Torino Suzanne Schulting (NED) again is the leader in the Super Prestige Classification, she has now 267 points out of the Worldcup competitions and is leading before Natalia Maliszewska (CZE) who has 133 points. In the classification for Men we saw a big change. Gun Woo Kim of Korea is now the new leader with 161 point, the second place is for Daeheon Hwang (KOR) with 145 points.

The Worldchampionships in Sofia will be the last competition of the series were points can be scored for the Super Prestige Classification. For the Ladies it looks like Suzanne Schulting can almost not be beaten anymore but with the Mens it is completely open with a number of skaters who still can win the Super Prestige World Ranking Classification.

The top 5 of the Super Prestige can be seen on the front page of this website; the complete Super Prestige can be found on the page RANKINGS.