StarClass Junior CD Lommel real development!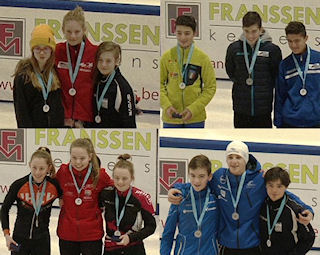 Overall winners of StarClass Lommel
23 January 2019 - From 18-20 january 2019 the third StarClass competition for the juniors C/D was held in Lommel-Belgium. The Luna Ice Stadium was for the first time the location of an International competition. 126 skaters from 38 clubs out off 7 countries came to this event. The Belgium Skating Federation (KBSF) together with the Speedskating Club Lommel (NLSV) and the Amsterdam Skating Club Jaap Eden made it a very well organized competition, what was a real development project for Shorttrack in this region of Belgium. The Overall winners were Franziska Zander (ETR), Lorenzo Previtali (SES), Diede van Oorschot (SVU) and Jenning de Boo (TRL). All results can be found on this website.