Super Prestige again Schulting and Wu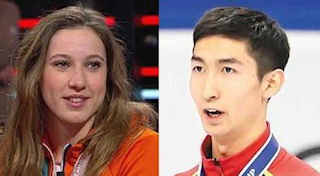 photo: Suzanne Schulting and Dajing Wu
4 December 2018 - Suzanne Schulting (NED) and Dajing Wu (CHN) are the leaders in the ShorttrackOnline Super Prestige World Ranking after the second ISU World Cup held in Salt Lake City (USA) from 9-11 November 2018. They both continued this position as they also scored the highest ranking in the first ISU world Cup of this season held in Calgary (CAN).

The SOL Super Prestige World Ranking is made to give a proof of appreciation to the best Overall shorttrack skater of the season and is based on the points scored in the ISU Worldcups and ISU World Championships. At the end of the season a special award will be presented to the winners of the SOL Super Prestige World Ranking Classification.

The classification of the points can be found on the page RANKINGS of this website and will be updated after every competition.