2nd Military World Games with Short Track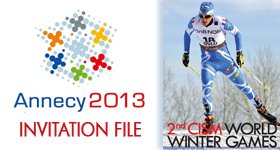 27 November 2012 - From 27-28 March 2013 the 2nd Military World Games will be held in Annecy-France. More then 1000 athletes from 40 countries will compete in 6 wintersports. Among these sports is also a Short Track competition in the program of the Games. Over a 50 shorttrack skaters are allready on the list of competitors. Allthough the entry has closed allready, short track skaters who are activ in the army can still enter for this event.

Belangrijke mededeling voor Nederland.
Indien je een shorttrack-schaatser bent met wedstrijd- ervaring en actief dienend militair bent bij de Koninklijke Landmacht, Luchtmacht of Marine mag je inschrijven voor de Military World Games in Annecy. Voor informatie kun je contact opnemen met jpbroekhuizen@hotmail.com.