Global Club Competition: Bormio wins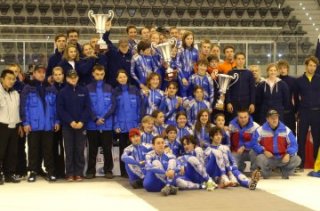 19 November 2006 - Bormio Ghiaccio (ITA) is the glorious winner of the 3rd edition of the Global Club Competition in Torino. The second and third prize winners were Juvenia Bialystok (POL) and Shorttrack Team GO (NED). In total 225 skaters of 36 clubs from 13 countries competed in the 2 icerinks of the Palaghiaccio Tazzoli. The results are available on this website. Click here for all the results or go to the Live page to see the complete program of the competition. See also the website of the event for details.

The top 10 Clubs:

1 Bormio Ghiaccio
2 Juvenia Bialystok
3 Shorttrack Team GO
4 Union Sportive Fontenaysienne
5 Eislauf-Verein Dresden e. V.
6 IJsvereniging Zoetermeer
7 SLIC München e. V.
8 C.S. Esercito Courmayeur
9 Nottingham Ice Racing Club
10 S.T. Kristallijn Gent

Click here for the detailed Club Classification.